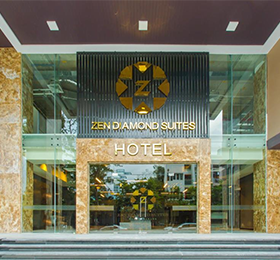 Zen Diamond Suites Hotel Grand Open!
Hotel Produce | Vietnam · Da Nang | 2017
Located in the heart of Da Nang city and just minutes away to International Airport and the beach, the 4-star Zen Diamond Suites Hotel Da Nang contains 290 rooms and suites with large room size which is perfect for the family who desire the comfort of homeliving while traveling in Da Nang. Guests will be offered a full size kitchen, living room, large bedroom, bathtub and sitting area on the balcony to overlook the scenic Han River with its beautiful bridges and a panoramic view of the city.
In order to respond firmly to the needs of diversified travelers, Gengo Space Design Laboratory, which has many achievements both in Japan and abroad, handled all designs. A luxurious feeling and a space where you can relax like our home are highly acclaimed by many customers.

Japanese restaurant NIN-NIN that our company develops in Osaka is opening in Vietnam for the first time as a Da Nang store. There are also spacious banquets, open all-day dining, cafe bars that you can casually stop by.

There is a convenient gym and pool, big sauna and business center. MICHI SPA operated by a Japanese company produces sophisticated relaxation space. There is also a HIS tour lounge inside the hotel.

Based on the rich experience of hotel management, we will make a proposal in total for example the improvement of new service, the improvement of added value as facilities and actual service delivery.